 When Oliver Norwood fouled Danny Ings in the penalty area during Sheffield United's 3-1 loss away at Southampton, not many people would've argued against James Ward-Prowse lending his usual spot-kick duties to his colleague.
It was a total end of season dead rubber for mid-table Southampton in all but one aspect - the Golden Boot race which separated Ings from Jamie Vardy by - at this point in the match - two goals. The Saints were already on the beach, so why not embrace the party atmosphere and let Ings have a crack at a once-in-a-lifetime achievement?
But for a small, devoted cult of Ings enthusiasts, this was no harmless slice of summer fun. In fact, it was tantamount to a betrayal of everything his thrilling goalscoring run this season stood for. For Ings, you see, had decided to turn his back on the purest of footballing ideals - securing the Golden Boot without scoring a single penalty. The Golden Golden Boot, the (imaginary) achievement of securing top-scorer status without a single penalty, has been successfully completed just twice over the last decade - once by Sadio Mané in a memorably low-scoring contest which saw him share the actual Golden Boot with Mohammed Salah and Pierre-Emerick Aubameyang, while the other went to a certain Luis Suárez.
For the last time a player outside of the current 'Big Six' won the Golden Boot without scoring a single spot-kick, you'd have to look back to... well... never.
When Aaron Ramsdale got his gloves to Ings' rather tame effort from 12 yards just seven days before in Southampton's 2-0 victory over Bournemouth, this crazy, beautiful dream had never seemed more alive, but it now lay buried (alongside an admittedly excellent penalty) in the bottom-left corner of Dean Henderson's goal.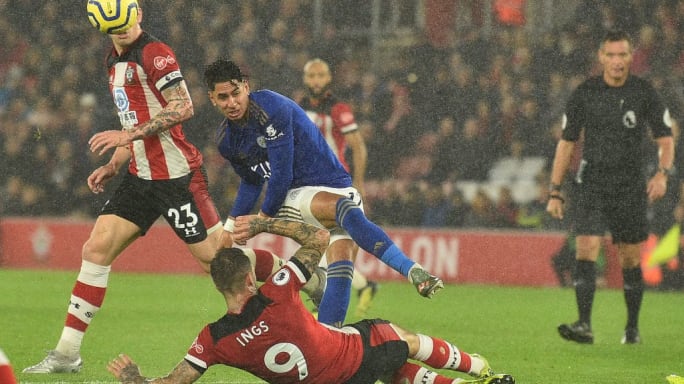 Of course, there was the small matter of Ings not actually overtaking Vardy's 23-goal haul, which meant that a Golden Boot of any description was sadly out of the question for the former Burnley man, but his unusual near-achievement spoke volumes about a season which could well pass Ings by without any sort of accolade whatsoever.
Even with one (cruel, heartbreaking) penalty, scoring 22 goals in a team which was no chilled-out mid-table drifter, but looked nigh-on certain for the drop as late as November, is something which elevates a solid goalscoring haul to one of the Premier League's finest individual campaigns.
And yet, with the FWA Footballer of the Year off the table, the Golden Boot and the Golden Golden Boot out of play and Ings' name barely mentioned amongst potential candidates for the PFA Player of the Year award, our one slither of hope is the slight chance that Ings could be named in the PFA Team of the Year. Some might see the impossibility of finding a space for Ings on the Premier League's red carpet as a clear sign that the awarding of footballing accolades needs to open itself up to the cornucopia of awards doled out every year in American sport, where for example this year's NBA All-Star Game had 25 separate participants distributed fairly evenly across the league.
At the same time, the more gongs that enter into circulation, the more everything begins to resemble the Under-9s Sunday League policy of awarding Man of the Match to whoever didn't get it last week (and don't get me started on the concept of a 'Most Improved Player' award).
But Ings is perhaps different from those who have come before him - Charlie Austin, Charlie Adam, Rickie Lambert - in that his success will not be so fleeting that it needs some kind of official pat on the back lest it is forgotten entirely. Watch Ings closely, and you will see that next season, there is every chance of this brilliance repeating itself. Perhaps the real award for Ings was when Sky's Ian Crocker greeted his opening goal against Aston Villa with 'guess who's there to follow up - it's him again!', a commentary cliché reserved only for those forwards in the very best of form.
And what was remarkable about Ings' season was the manner in which it gathered momentum, how, as he grew in confidence, he gave us a glimpse of the player that Spurs and Liverpool duked it out over in 2014.
His first two league goals were near-identical, showcasing Ings' outstanding and rather frightening ability to press relentlessly in the attacking third (Ings has recorded the league's third most pressures in the attacking third this season) as he forced two different goalkeepers in Adrian and Hugo Lloris into fatal errors. For a man coached by Jurgen Klopp and coveted by Mauricio Pochettino, these goals perhaps didn't come as a surprise, and the beginning of the season saw him score what was largely a collection of toe-pokes, close-range finishes and tap-ins - all very useful, but could a Golden Boot contender accumulate enough goals off this bread and butter alone?
A beautiful disguised finish against Arsenal, where Ings looked to be curling it around Bernd Leno before ingeniously bending the ball towards the near post, was when it became apparent that Ings both find space for himself in the box when a chance arises, but also create his own chances with his excellent finishing.
And when a forward can fit that much in their proverbial locker, it becomes very difficult to stop them. By New Years' Day, Ings was ready to reveal one of the most outrageous tricks in his repetoire - in a game where the focal point was an injury to Harry Kane, perhaps the biggest obstacle standing between Ings and a starting spot for England, first blood went to the Southampton man in glorious fashion.
A pass from Jack Stephens found Ings in the channel, and he delayed it until just the right moment to artfully lift the ball behind Toby Alderweireld. With the Tottenham goal at his mercy, he let the ball bounce, and like Leno before him, Gazzaniga was completely caught out by Ings' decision to opt for the near post.
Since then, subtle, scrupulous finishes from outside of the box have become an Ings signature, and when he receives the ball on the edge of the area it's now a seamless formality that he will gently but ominously nudge it onto his right foot before finding the bottom corner. To get a little sentimental, then, it might even be the case that Ings's real reward for his labours this season is the opportunity to settle into a Southampton side which under Ralph Hasenhüttl looks capable of great things.
Not only is Ings leading the line for his boyhood club, but the club itself embodies his own spirited, high-intensity approach - arguably the best place he could be in for his career right now is the place where he's always dreamed of being.
That might not be a Golden Boot, but it's worth it's weight in gold.
Source :
90min